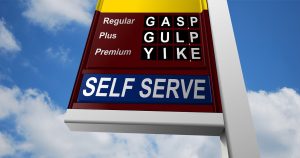 US Gasoline Prices Continue To Rise
Gasoline prices are up 11.8 cents over a week ago, and are 9.4 cents higher than they were a year ago, before Russia's "special military operation" in Ukraine.
Gasoline prices are rising along with the rise in WTI crude oil prices, which are up $3 per barrel from a week ago, and up $2 per barrel from a month ago… and given the lags of the supply chain, pump prices are set to go considerably higher…
In addition to rising crude oil prices, gasoline prices are rising as "continued refinery challenges kept supply of gasoline from rising more substantially."… (Continue to full article)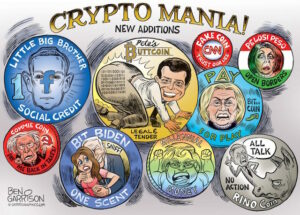 The U.S. Congress Twiddled Its Thumbs on Crypto while 10 Countries Banned It and 42 Others Placed Heavy Restrictions
On January 31 of last year, Oliver Sullivan reported at Lawyer Monthly that the growing list of countries "that wholly banned cryptocurrencies includes China, Egypt, Iraq, Qatar, Oman, Morocco, Algeria, Tunisia, Bangladesh and (as of this month) Kosovo. Forty-two others have passed restrictions to this effect, prohibiting crypto exchanges or limiting the ability of banks to engage with crypto."
Compare that to the United States, which increasingly looks like a financial backwater, with questionable crypto deposits blowing up federally-insured banks; collapsing publicly-listed crypto mining stocks whose business model is to pump more fossil fuels into the atmosphere in order to solve complex mathematical problems that have no productive purpose; $8 billion in customer funds going missing at the FTX crypto exchange which was promoted by media darlings on television; and, of course, Big Law firms getting fat at the crypto bankruptcy… (Continue to full article)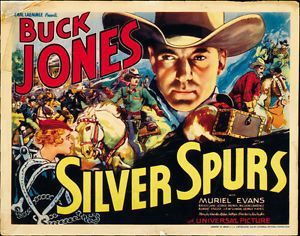 Why Silver's Price Has Been Lagging Gold's
In the early weeks of 2023, the gold price has continued to rally, yet silver's price is now down on the year. Which has left many silver investors feeling confused as to what's going on, and why silver has not followed in tandem with gold as is often the case…. (Continue to full article)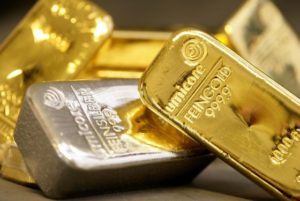 Gold and silver boom predicted as US hits debt ceiling, dollar devalues
The U.S. hit its $31.4 trillion debt ceiling on Thursday, after the latest inflation data showed consumer prices still 6.5% higher on an annual basis.
"Anyone can see that government spending is a major problem for our country's economic health, and now our government is at risk of defaulting on its bills," he continued. ". If the federal government defaults on its loans, it will destroy whatever investor faith might be left in the U.S. dollar and weaken it dramatically."
"This environment creates a strong case for allocating funds to physical precious metals." (Continue to full article)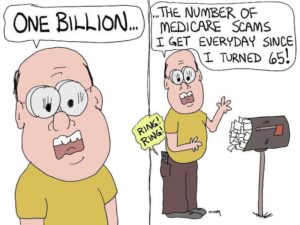 Medicare Advantage Is Neither Medicare Nor an Advantage
Right now, well-funded lobbyists from big health insurance companies are leading a campaign on Capitol Hill to get Members of Congress and Senators of both parties to sign on to a letter designed to put them on the record "expressing strong support" for the scam that is Medicare Advantage.
But here is the truth: Medicare Advantage is neither Medicare nor an advantage!
And I should know. I am a former health-care executive who helped develop PR and marketing schemes to sell these private insurance plans… (Continue to full article)