Yellen Admits Government Choosing Bank Bailout Winners and Losers
Treasure Secretary Janet Yellen admitted to the U.S. Senate Thursday that the government is choosing winners and losers in the rigged bank bailout lottery. And wouldn't you know it, the losers sure look like the smaller community banks the big banks (and Democrats) would love to see eliminated.
"Will the deposits in every community bank in Oklahoma, regardless of their size, be fully insured now? Are they fully covered, every bank, every community bank in Oklahoma, regardless of the size of the deposit? Will they get the same treatment that SVBP [Silicon Valley Bank] just got or Signature Bank just got?"
Look very closely at Yellen's terrifying answer:
"A bank only gets that treatment if a majority of the FDIC board, a super majority of the Fed board and I, in consultation with the president, determine that the failure to protect uninsured depositors, would create systemic risk and significant economic and financial consequences."
In other words, if the FDIC likes your bank, the depositors are insured. If not, the depositors are not insured over $250,000, which means what?… (Continue to full article)"
First Republic Bank Shares Crash Despite $30 Billion Rescue
First Republic Bank's stock price crumbled on Friday despite big banks' injection of $30 billion in uninsured deposits into the institution, suggesting the "rescue" did not inspire confidence as intended.
Not only did First Republic's stock price crash — it was down around 25 percent at noon eastern time Friday — but several of the big banks that rescued the bank have experienced a drop in stock price. Shares of Wells Fargo were down by 4.2 percent, shares of Citigroup fell 3.6 percent, shares of Bank of America dropped four percent, and shares of J.P. Morgan Chase declined by 3.3 percent.
On Thursday, the Federal Reserve, Federal Deposit Insurance Corp., and the Office of the Comptroller of the Currency said the rescue was a reflection of the big banks' "confidence in the country's banking system."… (Continue to full article)
We are

STILL

getting

SCREWED

…
Banks Rush to the Fed for Liquidity
The Federal Reserve on Thursday released its latest weekly snapshot of the central bank's balance sheet. As of March 15, the level of borrowings from the Fed's liquidity and credit facilities had risen nearly 2,000 percent from the prior week, rising from $15.2 billion to $318.1 billion.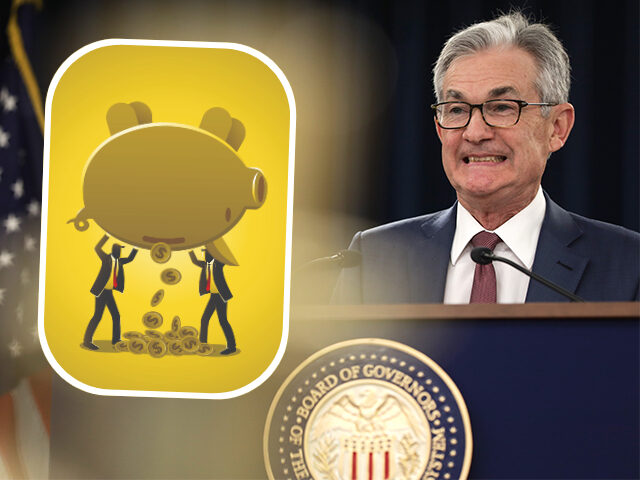 To put that in historical context, the 2020 pandemic level of borrowings reached only $129.6 billion. The last time borrowings were this high was November of 2008, following the collapse of Lehman Brothers.
Lending under the Fed's "primary credit" facility—known as the discount window—jumped from $4.6 billion to $152.9 billion. The Fed describes this as "a lending program available to depository institutions that are in generally sound financial condition. Primary credit is available in terms from overnight to 28 days. In extending primary credit, Reserve Banks must judge that the borrower is likely to remain eligible for primary credit for the term of the loan."… (Continue to full article)
Yellen claims US banking system 'remains sound'
A week after the second-largest bank collapse in U.S. history, Treasury Secretary Janet Yellen told the Senate Finance Committee on Thursday that the nation's banking system "remains sound" and Americans "can feel confident" about their deposits.
Her remarks, coming against the backdrop of deepening concerns about the health of the global financial system, were an effort to signal to markets that there would be no broader contagion from the collapse of Silicon Valley Bank in California and Signature Bank in New York.
Facing fierce questioning by lawmakers on how Federal Reserve interest rates contributed to the bank failures and whether taxpayers would bear the brunt of the commitment to make depositors at the banks whole, Yellen stressed the need for the federal government to act to assure stability in the market.
What 'Sound' is this… (Continue to full article)
How four First Republic Bank execs quietly sold $12M in stock before SVB crash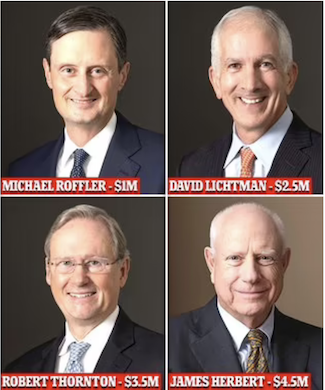 First Republic Bank executives quietly sold nearly $12 million worth of its stock in just the past three months, according to the Wall Street Journal.
Executive Chairman James Herbert II sold the most of any of the other insiders, off-loading a whopping $4.5 million worth of shares since the start of the year.
In all, four of the struggling bank's top executives sold $11.8 million worth of stock so far this year, at prices averaging just below $130 a share, the Journal found
Some of these sales came just days before the bank started facing liquidity troubles, as panicked investors sought to get their money back following the fall of Silicon Valley Bank and Signature Bank… (Continue to full article)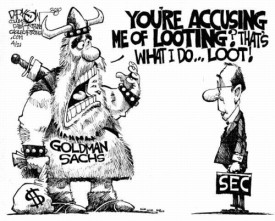 Goldman Sachs issues recession warning – as it's revealed the bank will make $100M from SVB collapse
Shares of First Republic dropped 35 percent at the opening bell on Thursday, after reports that the San Francisco-bank is exploring strategic options, including a sale. First Republic, which has a similar client base to failed SVB, has been most impacted by fears of contagion, and on Wednesday had its bond rating cut to Junk status by Standard & Poors. A bank spokesman did not immediately respond to request for comment.
Overall, Wall Street opened lower Thursday, but the losses were modest, with the Dow Jones Industrial Average falling 47 points, or 0.15 percent, after a whirlwind several days dominated by a growing banking crisis.
First Republic 'is in rescue talks with major banks including JPMorgan': Dow jumps 300 points on word of a $20B lifeline for troubled regional lender… (Continue to full article)
Group of financial institutions in talks to deposit about $20 billion in First Republic
A group of financial institutions are in talks to deposit roughly $20 billion in First Republic, sources told CNBC's David Faber. The group includes Goldman Sachs, Morgan Stanley, JPMorgan Chase, Citigroup and others, the sources said.
The deal is not done yet, the sources said. The plan does not call for an of acquisition of First Republic. The sources noted the amount was a moving target. Other reports said the deposit boost could be as much as $30 billion.
The news comes after First Republic's stock has been pummeled in recent days, sparked by the collapse of Silicon Valley Bank last Friday and Signature Bank over the weekend. Both of those banks had a high number of uninsured deposits, as did First Republic… (Continue to full article)
What's a bank run? The 10 moves that led to Silicon Valley Bank's astonishing fall
Silicon Valley Bank's astonishing fall Friday began when its customers rushed to draw down their accounts all at once — a destabilizing event known as a bank run.
The bank provided financing for almost half of US venture-backed technology and health care companies. It was the largest failure of a US bank since Washington Mutual in 2008, during the Great Recession.
Although the bank's fall unfolded over a rapid 48 hours, the story begins years ago with moves made by the Fed and investment decisions by the bank.
Here's what led to the demise of a Top 20 US commercial bank… (Continue to full article)