~ The Historic American Coin Vault ~
~ The Liberty Series ~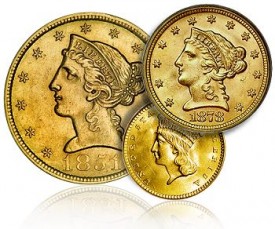 U.S. Liberty gold coins are amongst the world's most recognized gold pieces and were the building blocks of the growing U.S. economy and financial markets in the 19th and 20th centuries, $20 Liberty gold coins were used in every aspect of American economic life, beginning with their first year of issue – 1849, with the discovery of gold in California. The classic portrait of Miss Liberty on the coin's obverse will always serve as a powerful reminder of the emergence of the United States as a world power in the latter half of the Nineteenth Century. Available in $2.50 (diameter of 18 mm), $5 (diameter of 21.6 mm), $10 (diameter of 27 mm) and the hefty (diameter of 34 mm) $20 denomination in either raw or certified specimens. Each individual coin will be hand selected to meet the requirements of the most discriminating collector or investor.
Each coin in the Liberty-head series was designed by Christian Gobrecht except the $20 denomination, which was designed by James B. Longacre. All have reeded-edges and are composed of .900 gold and .100 copper. Net gold content: $20.00, double Eagle – .96750 oz.; $10.00, Eagle – .48375 oz.; $5.00, half Eagle – .24187 oz.; $2.50, quarter Eagle – .12094 oz.
~ The $20 Saint-Gaudens Double Eagle ~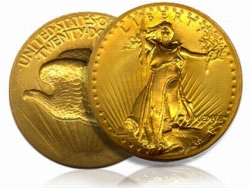 The $20 Saint-Gaudens Gold piece is one of the most beautiful coins ever minted by the United States. It was designed by Augustus Saint-Gaudens and minted from 1907 to 1933. There were two design types minted as business strikes: the 'No Motto' type (1907-1908) and the 'with Motto' type (1908-1933). The coin is composed of .900 gold and .100 copper including a net weight of .96750 pure gold with a diameter of 34 mm. In 1907 (first year of issue) two different edge treatments were utilized, including plain and lettered in addition to both wire and flat rims. Available as either raw or certified specimens. Each coin will be hand selected.
In 1933, under Executive Order by President Roosevelt (internal hyperlink), most other gold coin was illegally confiscated from an unsuspecting American public. Although all 1933 specimens were to have been melted, 13 are known to have survived, with only one having ever been brought to market.
~ The SPECTACULAR INDIAN GOLD COINS of the 20th Century ~
~ The $10 Saint-Gaudens Indian Eagle ~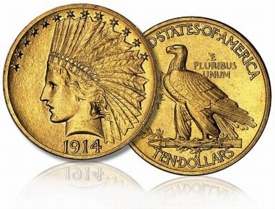 Minted from 1907 to 1933, the U.S. Indian series of gold coins are a constant favorite among collectors because of their fascinating designs and exceptional beauty. Composed of .900 gold and .100 copper including a net weight of .48375 pure gold with a diameter of 27 mm. The $10 piece was designed by world famous American sculptor Augustus Saint-Gaudens, who also created the coveted $20 double eagle.
The $10 Indian Eagle originally had 46 raised stars on the edge (later increased to 48) and featured a classic portrait of Lady liberty in full head-dress (a pre-cursor to the 'Peace' Dollar?) on the obverse and a majestic standing American Eagle on the reverse (with a very industrial or Art-Deco look).
~ The INDIAN Design of Bela Lyon Pratt ~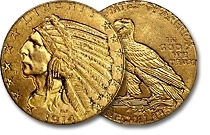 Teddy Roosevelt took a keen interest in the design of currency issued during his term in office and in addition to Augustus Saint-Gaudens, Bela Lyon Pratt was chosen as the designer of a new issue of $2.50 and $5.00 gold pieces.
The new designs broke completely with past tradition of raised relief coins. Pratt, recommended the new coins be of a recessed design rather than raised. Due to fear of the spread of disease, circulation of these beautiful specimens of Americana was suspended for an extended period of time in 1916 and began minting once again as early as 1925.
As was Constitutionally required, each coin was struck with a composition of .900 gold and .100 copper, with the $5.00 half Eagle denomination having a diameter of 21.6mm and containing .24187 oz., net pure gold and the smaller, quarter Eagle coin having a diameter of 18mm and containing .12094 oz. Each of these designs was minted with a reeded-edge.
~ The Odd-Denomintion American Coins ~
COMING SOON – an introduction to some of the little known American gold coins, which are worth the look – if nothing else – including those originally minted for the purpose of doing business primarily with the United States Post office.
Kettle Moraine, Ltd.
P.O. Box 579
Litchfield Park, AZ 85340
602 – 799 – 8214
kettlemoraineltd@cox.net