~ The International Vault: the Affordable Alternative ~
~ The Legend of Jacque Dupré ~


At the end of World War I, in the year 1918, Frenchman Jacque Dupré inherited the equivalent of $325,000.00 American dollars. Dupré used his inheritance wisely by converting it all into French, 20 franc gold coins. Each day for the rest of his life Monsieur Dupré spent the total sum of one gold coin to meet his needs – food, clothing, shelter, entertainment and medical.
Some years after his acquisition, French tax authorities performed the first of what would be many audits on Dupré. The authorities could discover no means of income – no bank accounts nor visible assets – and yet – their victim – the innocent Monsieur Dupré obviously lived quite comfortably in his modest Paris apartment… (Read the rest of the story…)
What we share with you below are examples of the most commonly purchased International fractional gold coins – coins, which are purchased primarily for the value of their metallic content, rather than for true numismatic rarity. Most coins are available at lower cost than their modern bullion counterparts. Kettle Moraine, Ltd. is proud to have access to one of the widest selections of international coins and would be happy to fulfill your needs beyond the scope of what is displayed within this gallery.
Historic Fractional Gold Coins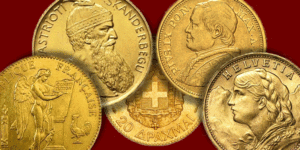 Historic fractional gold coins can be an ideal option for those seeking to combine the negotiable/divisible advantages of small-denomination gold coin ownership with added insulation against the risk of possible government intervention in the gold market. Frequently referred to as 'Historic Bullion,' their vast mintages and consistent availability often make these items the least expensive fractional gold coins available in the market. They simultaneously can offer buyers the 'most gold for your money' option in the pre-1933 genre while tracking the gold price directly. Often prices run equal to or below their modern equivalents on a per ounce basis – a truly, 'two birds with one stone' opportunity for the safe-haven investor. The most popular choices include British Sovereigns, Swiss 20 Franc, and Netherlands 10 Guilders, though the market is remarkably diverse, with numerous accessible and affordable options.
~ Selections from the British Empire Collection ~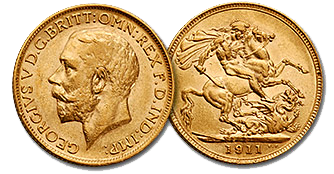 Queen Victoria – Veiled Head (1893-1901):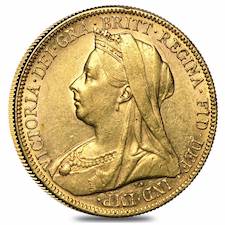 The fourth coin issued in the 'Victoria" series (the 'Matron Head' is not offered here as it is a true rarity.) is the 'Veiled Head' variety. Since they were heavily used in commerce, few quality examples have survived until today. (Extra Fine condition)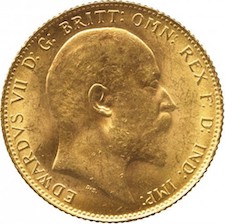 King Edward VIII (1902-1910):
Due to the short period of mintage very few better quality coins remain available in this series, however in order to expand your "collection," it is always advisable to diversify your holdings with some of these. As with each of these sovereigns, the weight is .2354 oz., net pure gold. Condition generally ranges Extra Fine to About Uncirculated.
King George V (1911-1932):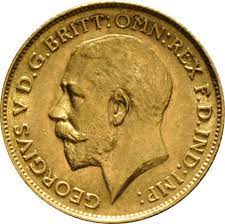 One of the most popular and widely distributed British coins available. By 1916, the British Empire covered nearly 2/3 of the global 'village,' and these golden gems (usually found in brilliant uncirculated condition) are still issued to the military forces of many nations as part of their survival gear, as they are still recognized the world over.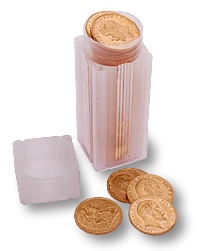 These are still one of the best buys in the international gold market. "The sun never sets on the British Empire!" Generally available in Extra Fine to Brilliant Uncirculated condition.
NOTE: British Sovereigns are recognized worldwide and have been used as emergency money for decades. Allied World War II pilots carried British Gold Sovereigns in their survival kits. Even in Desert Storm, American pilots carried these historic gold coins as their emergency money in case they were downed in Iraqi territory. Clearly, genuine British Sovereigns are private, portable, and have instant liquidity worldwide.
~ Selections from the French Collection ~
20 Franc, Ceres (1849-1851):


Minted for just over two years, this exquisite specimen depicts the Roman god of agriculture – interesting for its time – during one of the mini revolutions, where the people were asking for more than cake to eat. Struck and released during the same period as Bastiat's, The Law. These beautiful coins were struck in .1867 troy ounce of pure gold and each one is over 150 years old. (Extra Fine to About Uncirculated condition.)
20 Franc, Napolean III (1861-1870):


This scarce coin is sought after by those who want an unusual piece. The Laureate, while not widely available because of its original low mintage, is a nice compliment to a French gold "collection." Other Napolean varieties may also be available. (Extra Fine to About Uncirculated condition.) .1867 oz. net pure gold.
20 Franc, Angel (1871-1898):


These stunningly beautiful coins are minted in .1867 troy ounces of pure gold and each one is over 100 years old. With the popularity of angels today, we thought they would make interesting additions to any collection of world gold coins. In America we call these beautiful gold coins "French Angels." In Europe they're often called "The Lucky Gold Angels" and they're famous for bringing good luck to their owners. (Extra Fine to Brilliant Uncirculated condition)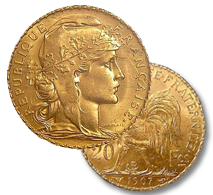 20 Franc, Rooster (1899-1914):
One of the most recognized and popular international gold issues, the "Rooster" was one of the most widely circulated and owned gold coins of it's era. As with most European 1/5 oz. coins – these contain .1867 oz. – net pure gold and are about the same size as a U.S. five-cent piece. The French 20 Franc Rooster is one of the most affordable, and therefore popular, of all our classic European gold coins and is ideal for investors who have the ability to acquire larger numbers of coins. Offered in Brilliant Uncirculated condition. Currently providing the greatest amount of gold for dollars spent.
~ Selections from the Netherland ~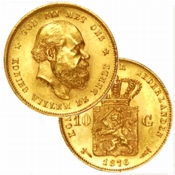 Dutch 10 Guilder, King Willem III (1875-1889):
The Dutch "King" contains nearly one fifth ounce net pure gold. Huge numbers of these beautiful coins have been melted down throughout history. An exceptional value at today's levels and an exceptional diversification within your holdings. .1947 oz. net pure gold. (Extra Fine to Brilliant Uncirculated)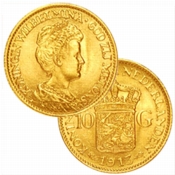 Dutch 10 Guilder, Queen Wilhelmina (1911-1933):
These last gold coins for commerce issued by the Netherlands were minted from 1911 to 1933. These 'Queens' provide an excellent value in both gold content and "numismatic." The specimens which we have seen over the past several years have been brilliant and outstanding. .1947 oz. net pure gold offered in Brilliant Uncirculated condition.
~ Selections from Belgium, the German States, Italy & Switzerland ~

Belgium; Leopold II 20 Franc (1870-1882):
These handsome gold coins contain the "standard" European weight of one-fifth ounce (.1867) of net pure gold. As type coins, their total mintage is about the same as the U.S. $5 Indian gold coins. Buy some at a modest premium over their net gold content. (Extra Fine to About Uncirculated)

Prussia; Wilhelm I & Wilhelm II, 20 Mark (1871-1912):
The Prussian 20 Mark coins are striking coins, weighing in at just under 1/4 oz. (.2304), net gold content. These are beautiful coins, available at low premiums. These early German pieces are loaded with history, representing grandfather and grandson as monarchs and during their era, these 20 Mark pieces were the currency of choice in Central Europe. These are spectacular examples of fine design work at an exceptional value. Wilhelm I are usually available in XF-AU condition, while Wilhelm II are generally available in Brilliant Uncirculated condition.

Italy; Vittorio Emmanuel 20 Lire (1861-1878):
Because Italian gold coins are so popular and are relatively scarce, they are always in demand. The Vittorio Emmanuel coin contains about 1/5 (.1867) of an ounce of net pure gold. Usually seen in Extra Fine condition.

Italy; Umberto 20 Lire (1879-1897):
Along with its predecessor the Vittorio Emmanuel, they are amongst the few available Italian specimens available. At the current price levels, we would suggest acquisition of a sizable amount to add to your international gold "collection." Also .1867 oz. net pure gold. (Extra Fine to Brilliant Uncirculated condition).

Switzerland; 20 Franc, Helvetia (1897-1930):
Switzerland has long been synonymous with stability and fiscal strength due to its practice of backing its currency with large quantities of gold. When you want to act like the big boys, you often consider Swiss francs (paper), annuities or bank accounts – why not just buy the "real thing?" One of the most recognized gold coins of the world, and although minted by the Swiss up until 1948, we only recommend those struck prior to 1933. .1867 oz. of net pure gold offered in Brilliant Uncirculated condition.
~ Selections from Below Our Southern Borders ~
Although much scarcer to come by, over the past eight years, we have been able to procure a fairly steady supply of golden-gems from countries such as Argentina, Brazil, Bolivia, Columbia, Cuba, Ecuador, Mexico, Peru, Uraguay and other nations south of the American border.

We have found most of these coins to be uncirculated and in fact heavier in gold content than either their European or American counterparts. Many of these specimens had much smaller mintage than U.S. $5 Liberty or Indian coins – making them much rarer. Call us today so that might begin building your Personally Selected Portfolio – and preserve your wealth for tomorrow. (Call for best prices and availability!)
~ Selections from the Nordic Hoard ~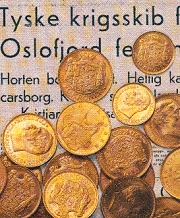 When an invader crosses the border into a nation, which he wants to conquer  amongst the first things sought – is the wealth of that nation. Art, museums, oil, banks and the gold and silver holdings of the people. Such it was when Hitler's army marched into the Nordic countries of Denmark, Finland, Norway and Sweden. The story of the fiercely defiant peoples from these lands and how they packaged all the wealth of their respective counties (and shipped it to 'safe harbors' until the end of the war) during the period leading into World War II is amongst the most amazing stories, which I have ever read. Many of the gold pieces offered herein, are part of this story. This IS history in your hands!
Throughout history, invaders have recognized capture of wealth as essential to complete conquest. But once upon a time in the history of the 20th century, the invaders missed their mark – and these coins are the result of that story.

The discovery of what is now known as 'the Nordic Hoard' created one of the greatest discoveries in international coin collecting. It has provided a whole new supply of truly historical and collectible coins for the novice, the astute, the student of history or those just wanting to sock a little away for the uncertain future.
Over the years, we have been providers of a vast collection of these very coins. The beauty and luster of these uncirculated gems is unsurpassed by few coins emanating from the European Continent. Dates on most coins range from the mid 1870's, such as the 20 Kroner from Norway up through the early 1920's. As with all Nordic coins, the weight is heavier than their counterparts from other European nations. (Call for best prices and availability!)
Kettle Moraine, Ltd.
P.O. Box 579
Litchfield Park, AZ 85340
602 – 799 – 8214
kettlemoraineltd@cox.net