~ The Silver Bullion & Coin Collection ~
Silver is best described as the "general duty" member of the precious metal group. Silver has been used to back monetary systems, it is used as an industrial metal (it is the best conductor of electricity), and it is used as one of the preferred metals for jewelry and fine adornment. Widely distributed in nature, silver is recognized the world over as the principal mineral used in coin minting.
~ U.S. 90% 'Junk' Silver Coins ~
Junk is not Junk! – Among dealers and investors, there is a category of coin called "junk." No, not the type of unwanted material you throwaway, rather they are coins, which were minted prior to 1965 and contain 90% pure silver content and are usually sold for their bullion content.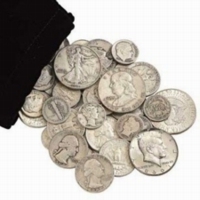 The usual method of buying such coins is in bags of coins representing face value (coin value) of $1,000.00 (contains approximately 715 ounces of silver) as a hedge against the possible collapse of the economic base (they will always be worth the face value). A "bag," generally tracks the spot price of silver. If silver goes up ten cents per ounce, a "junk" bag rises about $70. junk silver coins hold greater upside price potential than .999 fine silver bullion products. At times, and especially during rising precious metals markets, circulated pre-1965 U.S. silver coins pick up premiums.
Although many investors buy junk silver coins as bullion investments, other investors buy junk 90% silver coins for "survival purposes." These buyers fear the worst for the dollar, that it will be printed until it becomes worthless. If this "worst-case scenario" were to become reality, then U.S. 90% silver coins would be used the purpose they were originally minted: as money. A staple for investors and those prepared for economic hardship.
Offered by Kettle Moraine, Ltd. by the full bag or 1/2 bag or 1/4 bag increments of dimes, quarters or half-dollars. (Mixed bags MAY be available upon request.)
Question: "In the event of major economic upheaval, how will I know how to 'spend' (junk) silver if the time should come?"
Answer: First of all, you must be able to calculate junk-silver's value at the appropriate time. Go ahead, try it out at http://www.silverandgoldaremoney.com.
~ Silver Bullion Bars ~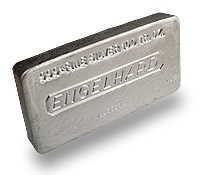 One hundred ounce silver bullion bars offer silver bullion investors a silver product with low markup over spot and a reasonably portable size. From reputable sources such as, Johnson Matthey or Engelhard, these bars are known in the industry as a reliably pure bulk product.
Silver bullion investors should find 10 or 100 oz. silver bars easy to handle and store.
Silver bars offer an important investment advantage: they carry a low premium over spot silver. Silver bars are an industrial product intended foremost as a storage means, and recognized around the world as a trading medium. They are therefore very liquid, however should be purchased strictly with investment in mind and not for bartering purposes.
NOTE: Five and ten ounce bullion bars are generally sold by the box of 500 ounces
~ American Silver Eagles ~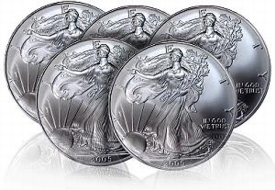 The only silver bullion coin backed by the U.S. government for weight and metal content, American Silver Eagles are the safest, most secure, and most convenient way to balance your investment portfolio.
Issued since 1986 as legal tender by the U.S. Mints in Philadelphia and San Francisco, Silver Eagles are only available in the one-ounce weight with a face value of $1.00.
American Silver Eagles are exceptionally beautiful coins, having the obverse depicting the memorable "Walking Liberty" design by Adolph A. Weinman, adapted from the popular U.S. quarters and half dollars. The reverse features the "Heraldic Eagle" design by John Mercanti. (Minimum order for physical delivery: 20 ozs.)
Silver Eagles are an excellent choice for first-time buyers and serious silver investors alike. As with American Gold and Platinum Eagles, they are eligible for inclusion in your Individual Retirement Account.
~ Canadian Maple Leaf Silver Coins ~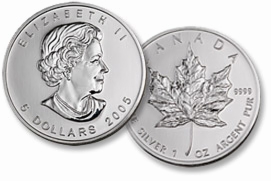 The Canadian Silver Maple Leaf has a certified silver purity of .9999 by The Royal Canadian Mint, making these coins the highest purity silver coin struck by a government mint.
The national symbol of Canada, a single maple leaf adorns the reverse of this beautiful coin while the obverse bears a sculpture of Queen Elizabeth II. This coin is often the designated choice of discriminating collectors and investors not only because of its beauty, but because of the extraordinary purity and high quality strike necessary to meet the standards of The Royal Canadian Mint. These bullion coins make both a handsome and practical addition to your portfolio.
Complete boxes of 20 tubes of Maple Leafs, (25 to a tube, 500 coins total) are available, sealed from the Royal Canadian Mint, pictured on the right. Also known as a "monster box," all orders of 500 coins (or multiples) will be supplied with a sealed Royal Canadian Mint box. Each box measures 8 x 10 x 5 inches, and are also eligible for inclusion in your Individual Retirement Account.
~ Austrian Vienna Philharmonics Silver Coins ~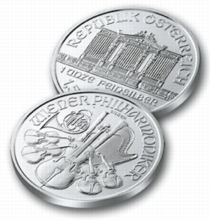 The silver Vienna Philharmonic is a legal tender coin minted by the Austrian Mint in Vienna. This beautiful silver bullion coin was introduced in 2008. It offers the option of owning silver denominated in the euro (€1.5) and the security of owning .999-fine silver.
The silver Philharmonic is struck at the Austrian Mint, established in 1194 in order to strike silver paid in ransom for the release of England's Richard the Lionhearted. Austria's Duke Leopold V had captured the English monarch as Richard attempted to pass through the area undetected after a falling out during the Crusades. For more than 800 years the Austrian Mint has been internationally famous for producing exceptional coins.
The silver Philharmonic utilizes the same basic design of one of the most gorgeous and coveted of all modern gold bullion coins, inspired by the world-famous Vienna Philharmonic Orchestra. A harmonious design of musical instruments from the Orchestra adorns the reverse of the coin. The great organ in the Golden Hall in Vienna's Musikverein is pictured on the obverse. Also featured on this side are the weight and year of issue. Struck in .999-fine silver, it is the first silver bullion coin to be denominated in euros, bearing a stated value of €1.50.
For investors interested in purchasing in quantity at the lowest premium possible, we offer lots of 500 coins. Complete boxes of 25 tubes of Silver Philharmonics (500 coins total), are available, pictured on the right. Known as a "monster box," orders of 500 coins (or multiples) will be supplied with an Austrian Mint box. Each box measures 8.5 x 8.5 x 3 inches. (Generally sold in mint-sealed boxes of 500, but smaller increments of full rolls MAY be available. CALL US.)
~ El Libertad ~
The Libertad is one of our favorite alternative bullion issues – a staple in the Sierra Madre Precious Metals Silver catalog and an affordable alternative to the American Eagle silver series.
The Mexican Libertad series features a one oz. silver bullion coin, produced in years when other Onza Troy de Plata (Troy Ounce of Silver) Mexican coins were not being minted.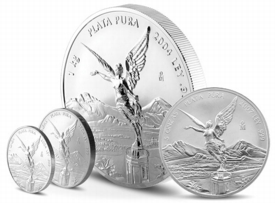 The obverse of the coin has gone through some minor changes, but has always featured the Independence Angel that is the symbol of Mexico City. The design is very similar to the Mexican 50 Peso. The Angel stands in front of the Iztaccíhuatl and Popocatéptl volcanoes. The fineness (.999 fine) and amount of silver, the date, and the name of the issuing country are all listed.
The center of the coin features an eagle battling a snake, surrounded by a wreath and the words "ESTADOS UNIDOS MEXICANOS". Issues have had either reeded or milled edges. Slight changes to design and lettering have occurred over the years. The Libertad is produced at the La Casa de Moneda de México (the oldest mint in the Americas). (Minimum order: 100 ozs., but smaller increments of full rolls MAY be available. CALL US.)
~ Silver Rounds ~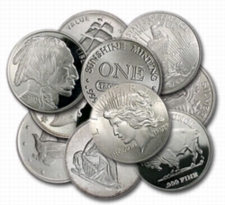 Another choice offering of alternative bullion issues – a staple in the Sierra Madre Precious Metals catalog and another affordable alternative to the American Eagle silver series.
The Liberty Round met instant success upon it's original mintage in 1983 and to this day, the demand often outstrips the supply. The obverse design features America's national symbol, The American Eagle with arrows in its talons and surrounded by thirteen stars representing the original thirteen colonies. The reverse depicts the historic Liberty Bell and the words, "Life, Liberty, Happiness" above the bell and ".999 Pure Silver" below. The privately minted Liberty Pure Silver Rounds are an excellent way to invest in pure silver because their premium above the silver spot price is often less than that of legal tender coins. If you wish to hold pure, 1 oz. fine silver bullion, these newly minted issues are a must and could easily be used as money in a worst-case scenario. (Generally sold in mint-sealed boxes of 500, but smaller increments of full rolls MAY be available. CALL US.)
~ The Indian Head/Buffalo Round ~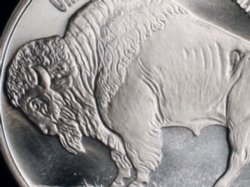 One of the most popular American coins ever struck, was the Indian Head or "Buffalo" nickel (1913-1938). In 2001, the United States Mint issued a commemorative silver dollar depicting a reproduction of the iconic design by James Earle Fraser, which immediately sold out. Two years later, one of the most respected private mints in the nation, began to issue .999 fine silver rounds with the same design. Kettle Moraine is able to supply these beautiful items on a continuing basis, as they are still being struck today. (Generally sold in mint-sealed boxes of 500, but smaller increments of full rolls MAY be available. CALL US.)
~ Silver Dollars ~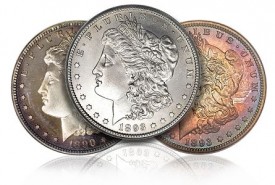 Silver dollars are not generally offered in the "junk" nor bullion categories as they generally sell for higher premiums than the previous category. The accumulation of Morgan and Peace dollars is perhaps the ultimate in the collecting of U.S. silver coins for fun and profit. The Morgans are especially treasured, and full collections in the best grades are worth hundreds of thousands of dollars. Peace dollars also find enthusiasts and full Peace collections are also very valuable. But again, it is the coins in the best condition, which offer the greatest potential for increase in value. Available by dated rolls, circulated or uncirculated and in higher grade, certified collectible specimens.
~ Market Value of Bullion Products~
Bullion related pricing will move up or down with the daily price of the individual metal-based product.. The spot price of all precious metals is reported every business day in all major media outlets.
NOTE: Minimum purchases may be required for Bullion products. Due to the volatility in the markets, bank-wire transfer is the preferred method of payment.
Kettle Moraine, Ltd.
P.O. Box 579
Litchfield Park, AZ 85340
602 – 799 – 8214
kettlemoraineltd@cox.net