~ The Platinum Bullion & Coin Collection ~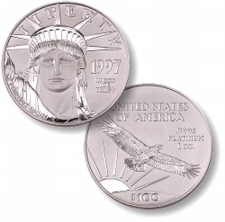 Platinum bullion and coin investors do not have a large selection of platinum coins from which to choose. Yet, the platinum bullion coins available come from the most prestigious mints in the world. Platinum Eagles (APE) are produced by the U.S. Mint, Platinum Maple Leafs (PCML) by Canada's Royal Canadian Mint, and Platinum Koalas by Australia's Perth Mint.
In the late 1990s, when platinum traded at about the price of gold, a strong interest in platinum developed; and in 1997, the U.S. Mint added Platinum Eagles to complement its Gold and Silver Eagles. Platinum Eagles were well received, and in 1998, the first full year of production, 133,000 of the 1 oz. Platinum Eagles were minted. Platinum is currently trading at considerably higher than the value of gold.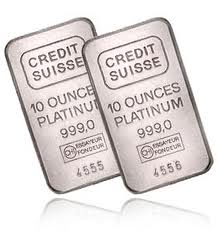 Investors who purchase platinum at higher prices pay smaller markups than would be the case if investors were actively buying platinum coins. Platinum bullion coin investors who want current year dates on their platinum coins can expect to pay huge premiums over back-dated platinum bullion coin prices.
The American Eagle Platinum bullion coins are available in four sizes/denominations: 1 oz. – $100.; 1/2 oz. – $50.; 1/4 oz. – $25.; 1/10 oz. – $10.. Each coin is comprised of 99.95% platinum.
~ Market Value of Bullion Products~
Bullion related pricing will move up or down with the daily price of the individual metal-based product.. The spot price of all precious metals is reported every business day in all major media outlets.
NOTE: Minimum purchases may be required for Bullion products. Due to the volatility in the markets, bank-wire transfer is the preferred method of payment.
Kettle Moraine, Ltd.
P.O. Box 579
Litchfield Park, AZ 85340
602 – 799 – 8214
kettlemoraineltd@cox.net