NOTE:

Please bear with us as we begin to greatly update this page. Valcambi currently has the most in demand and HOTTEST product line in the industry – and it puts YOU in control!
Now you can buy a REAL GOLD bar the size of a credit card!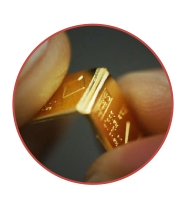 Do you truly want to stay out of the system? Are you prepared to buy into the biggest scam since the Iraqi Dinar?
If not – then put your money where it belongs – in YOUR possession – not in the hands of an International MLM cartel.
The Valcambi 1 Troy oz.,  50g CombiBar and 100g CombiBar gold bar sheets are the ideal instruments for investors seeking an expedient way to acquire gold in smaller sizes at a very favorable price. Having precious metals in trade units is a solid way to prepare for any contingency, both for today's changing economic conditions and because of the threat of economic crisis in the future.
Every now and then, banks around the world launch yet another latest, cool, and ridiculous credit card design, size, technology, art, and so on.
Today, one of the crazier things emerges in the market, that is, a gold credit card, literally made of 50gm of 999.9 pure gold.
This is NOT a credit card – but it's the size of a credit card that one can easily slip in his/her wallet to be pulled out to purchase goods, just like a normal credit card. This 'card' is called the Valcambi Gold CombiBar.
Setting the New Standard for Physical Gold
Some call it the new gold standard in gold, the Valcambi Gold CombiBars™ is specially designed to be broken off easily, by hand, into one-gram pieces.
The 5 by 10 grid design are engineered in such a way so that each square can be broken into exactly one gram of gold without any loss of material. It's international hallmark, weight, element, purity, the Valcambi name and logo are all stamped onto each of the smaller pieces for easy identification when used as an individual piece.

Each breakable Gold CombiBar™ comes with a unique serial code, including 2 letters and 6 numbers stamped on the bar, plus a serial numbered certificate.
Each 1 Troy oz gold bar is composed of 10 individual .9999-fine 1/10 Troy oz gold bars and can easily be divided by hand without any loss of metal. This gives you the ability to trade the whole ounce of gold, a segment, or barter individual gold bars, offering the ultimate in flexibility during a crisis.
The Valcambi 50g sheet is composed of 50 individual .9999-fine 1g gold bars, AGW (actual gold weight = 1.60754 ozt) and is easily separated by hand into gold "micro bars" without loss of metal. You can trade as a complete unit of 50 grams, or barter, or sell as individual gold bars. …and then there is also the 100 gram option as well. WAHOO!

At Kettle Moraine, Ltd (Est. 1996) we will provide you with the finest Valcambi minted detachable gram sheets of pure 24 karat gold for hundreds of dollars less than so-called privately issued credit cards with elusive Karatbar "gold" backing.
Gold backing? The only gold that I want is in my back pocket – not backed by promises of an operation that even the US Chamber of Commerce is suspect of – giving a rating of C minus.
These breakable Gold Bars are IRA accepted and minted according to the high quality for which Valcambi Suisse is famous for.  These new Gold CombiBars also meet the highest optical and technical standards in the bullion industry.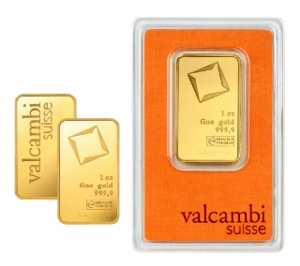 Each breakable Gold CombiBar comes with a unique serial code, including 2 letters and 6 numbers stamped on the bar, plus a serial numbered certificate.
Be it for endowment or gifts or savings or investment or trading this innovative divisible gold CombiBars™ is sure to provide everyone, not just investors, with an accessible and flexible option for managing their physical gold holdings.
Avoid being a victim by purchasing these beautiful, barterable, tradable sheets of gold at tremendous savings and in the strictest of privacy
Remember – no Dinar, no celery and no Karats. Be prepared by taking the steps to protect your wealth with the purchase of the real deal – detachable 50 gram gold bars from Kettle Moraine, Ltd. by calling 602-799-8214.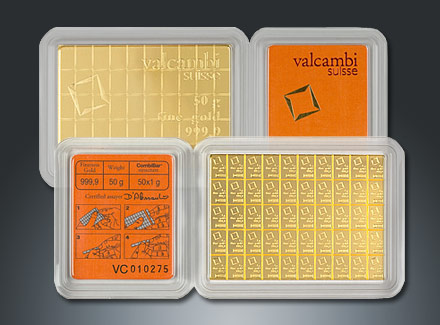 Kettle Moraine, Ltd.
P.O. Box 579
Litchfield Park, AZ 85340
602 – 799 – 8214
kettlemoraineltd@cox.net